Centersky is a global professional electrical steel sheet manufacturing leader, specialized in the production of a variety of standard and non-standard series EI lamination, three-phase core, core ballasts, TL core series and a variety of reactor core products, widely for electronic transformers, power transformers, sensors, voltage regulator, computer power,leakage protection switch, welding machine,magnetic amplifiers, reactor, and instrumentation industries.
Harvesting Greater Achievements Composing New Chapters
Mr. Xu Xianliang, the Founder, established a school-run silicon steel factory affiliated to Nanzha Middle School, jiangyin, the parent of Centersky Electric Appliance Co., Ltd.
1974/7/21
Established a submersible pump plant.
1979
Established a chemical branch.
1988
All branches integrated into a corporation named Centersky Electric Appliance Co., Ltd It was the first high speed development period of Centersky. 〝Centersky〞 electromagnetic silicon steel took the lion's share in East China.
2000
Moved to a new factory—a green environmentally friendly garden factory.
2003
Completed the third phase of factory building of 15000 square meters
2005
Hu Jintao, President and General Secretary of CCP, visited Centersky and wrote an inscription: Harvesting Greater Achievements, Composing New Chapters
2005/5/19
Established Centersky ZhiJie Trade Limited, which was in charge of the product promotion at home and abroad.
2006
Established Centersky GuanYun Photoelectric Technology Limited, which became the designated display provider for American Apple computer and Korean LG and our shipments took 30% share of the two companies.
2007
Introduced and established Shane English school-- the earliest English training institution, which trained a number of English talents for enterprises, institutions and schools
2009
Provided technical assistance and cheered for Shanghai World Expo; It was the second high speed development period of Centersky Electric Appliance Co., Ltd. So far, the electromagnetic products made by Centersky took the share of 30% in China and 11% in the global market. As a world known silicon steel manufacturer, nearly half of the world's top 500 enterprises purchased our products. Established Montessori (Jiangyin) Baby School
2010
Established Centersky Group (HK) Limited in Hongkong; Mr. Jag Xu, CEO of Centersky Electric Appliance, is the Chairman of the Board of Directors.
2012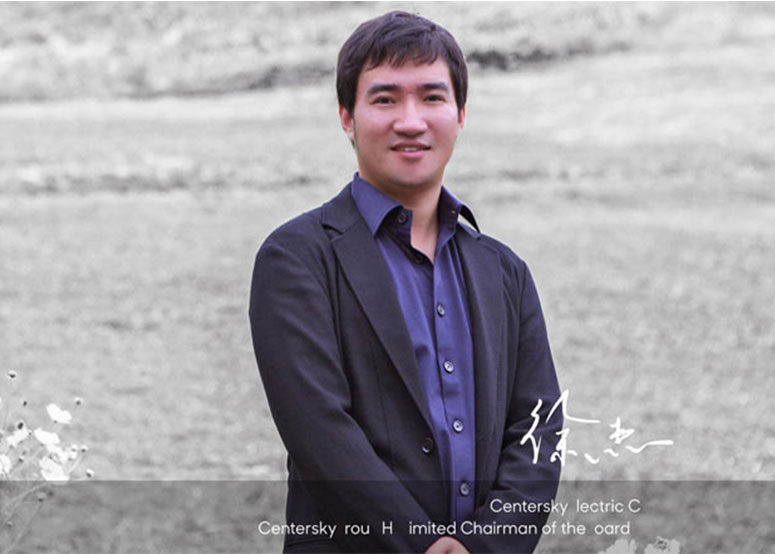 Centersky Electric CEO
Centersky Group (HK) Limited Chairman of the Board
Centersky is focusing its gaze far out in the future and has set a goal of becoming the comprehensive solution provider on electromagnetic products. We attach importance to develope the energy-efficent products and expand the worldwide maket relevant to the environmental protection.
We do believe that good products and services are the credibility and value of the company. Based on the business philosophy of " We offer the most professional silicon steel sheet in the world with highlighting speciality" , Centersky is working on the HQ energy-efficient products and serveices all the time. There has been a call for companies to do more in society increasingly.As the leading campany in the electromagnetic field, Centersky is undertaking more and more social responsibilities and set a example for other companies.
Don't hesitate to get in touch with us